A celebration of process and craft, La Marzocco Home is proud to partner with a curated selection of Australian coffee roasters in our Roaster in Residence program.
Evolving each month, we invite you to join us in exploring Australia's unique landscape of specialty coffee roasters, discovering different blends to enjoy at home alongside your La Marzocco Home espresso machine, while also enjoying exclusive offers and events in partnership with our resident roaster.


introducing our roaster in residence, coffee supreme
Known internationally for creating better coffee experiences for everyone who has come to the party, a Supreme cup of coffee is one you can trust for flavour and care.
Founded in Wellington, New Zealand almost 30 years ago, Coffee Supreme began with the team roasting coffee for themselves (as they were some of the very few around to drink it).
Three decades and several waves later, Coffee Supreme has grown its focus a little broader by roasting for their friends, customers, and fellow coffee-enthusiasts across New Zealand, Australia and Japan.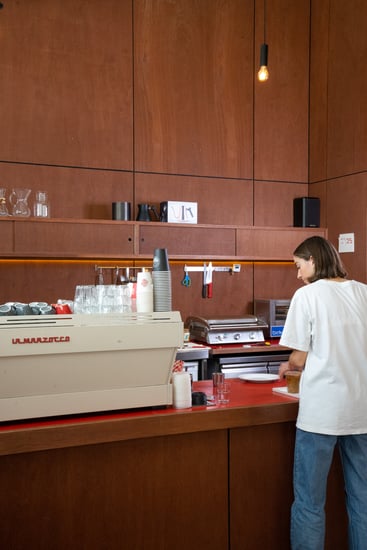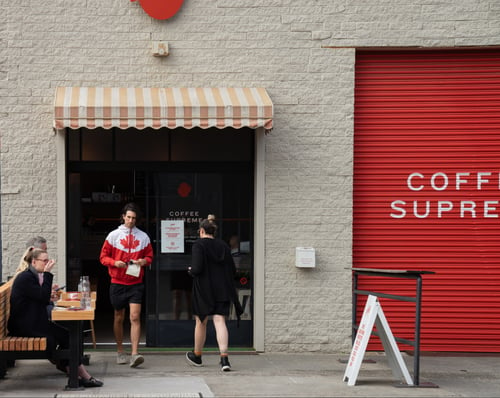 While it can be tempting to get caught up in the latest and greatest, the team at Coffee Supreme have always stayed focused on what they do best: roasting delicious coffee and creating meaningful coffee experiences for folks who simply love coffee.
At the heart of Coffee Supreme is people and the way coffee connects us. Perhaps their core product is not in fact coffee, but instead, what happens over a coffee shared - generous hospitality.
explore our offers exclusive to the month of april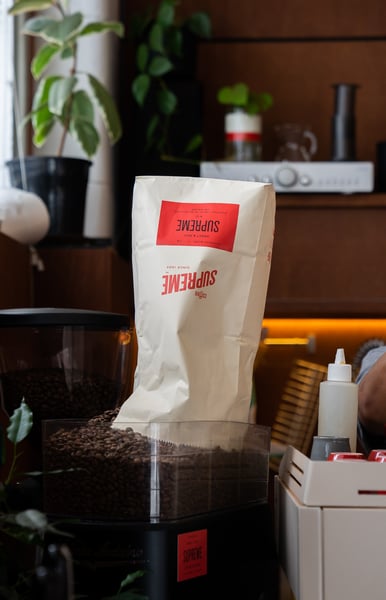 tasting notes
Milk Chocolate & Citrus | Sweet & Rich


about the blend
Supreme Blend is Coffee Supreme's signature espresso blend, enjoyed in homes, workplaces and cafes across Australia.
This coffee is Coffee Supreme's most complex in terms of blend makeup and contains a range of origins, varietals, and processing methods.
Supreme displays a full-bodied richness, a crisp, cradling acidity, and lingering cocoa finish. This blend is based around a combination of Central American coffees which provide the core flavour elements and refined acidity. To this, the team add a seasonal selection of coffees to keep Supreme tasting great year-round.
how to enjoy supreme blend at home

recipe
(Makes one strong coffee, or two weak coffees)
Ground coffee weight (dose): 20g
Beverage weight (yield): 50g
Brew (extraction) time: 28–30 seconds
Water temperature: 95°C
Grind size: fine


steps
1. Prepare the portafilter
Remove portafilter. Clean and dry the basket.

Purge the group head by allowing hot water to flow through. This clears the screen of any built-up coffee grounds.

Place the portafilter on the scale and tare the scale to zero, then place the portafilter under the grinder to receive the coffee.

2. Grind, dose and tamp
Grind enough coffee to fill your portafilter basket and then check the weight on the scales.

Make sure coffee is distributed evenly in the basket and use a tamper to press down the bed of coffee.

There should be 3–4mm of space at the top of the portafilter after tamping.
3. Brew
Insert the portafilter into the espresso machine.

Place scales and cup below the portafilter, tare to zero and immediately start to brew.

Stop the shot when the espresso is roughly double the weight of the ground coffee in the basket.

4. Serve
Serve your coffee immediately.

Remove portafilter and knock out spent grounds.

Pop the clean portafilter back into the machine to maintain its temperature.